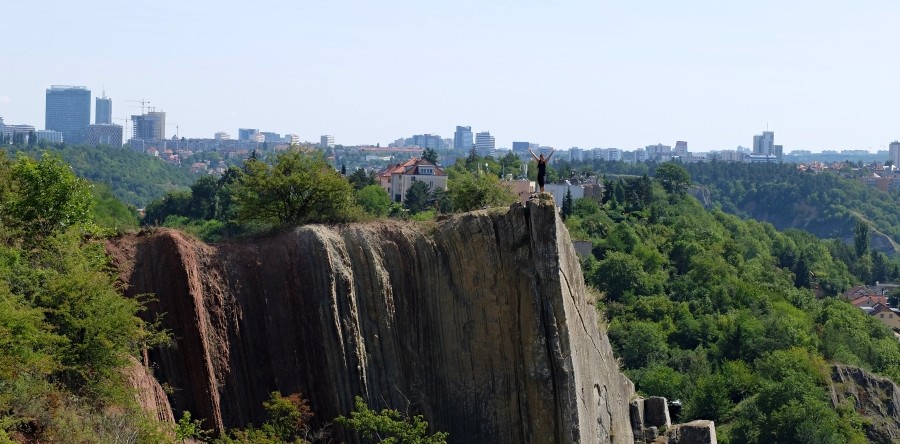 Adults: €49/person
Children under 18: € 24.50/person
This half-day tour offers hiking to a look-out spot you won't find in your guide books, a train ride on Prague's most beautiful railway and  a la carte lunch in an authentic local restaurant.
Your local guide will meet you at 8:30 a.m. in front of the Palladium Shopping Centre at "Namesti Republiky" (The Republic Square) which is one of the Prague's main squares. From there you will travel some 15 minutes to a hidden train stop to catch a small motor train. (At weekends we will take the historic motor train from Prague's main railway station)
The railway crosses a rocky valley via two historic viaducts which together with the mountainous scenery around resemble the Semmering mountain railway in Austria and that's why the whole are is called "Prague Semmering".
The train ride takes only about 15 minutes. You'll get off in the middle of the natural reserve "Prokopske udoli", one of the most popular recreational area of Prague's residents. Hiking trail will take you through the forest to the top of the cliffs with great views over the city. The trip ends in a local restaurant where you'll have a la carte lunch (included in price). After the lunch your guide will take you back to the Republic Square or anywhere else in the city centre you wish to be.
The hike is about 9 km (6 miles) long and the whole trip, including transport and lunch takes about 6 hours.
Duration: about 6 hours, 9 km (6 miles) of walking
Difficulty: Medium
Highlights: Ride a train on the prettiest railway in Prague, beautiful views of Prague from the clifftops, a la carte lunch.
Availability: Monday to Friday
Group size: 2-8 people
Book Your Tour || Tour Calendar
For child its 50% OFF

Are you a solo traveler? Contact us
Would you like to have your own custom made trip? Contact us